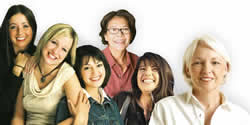 Women's ministry is designed to affect and challenge today's women to live Gods way. Our goal is to help women build unity and trust among women through fellowship, worship, teaching and prayer.'
God is looking for women who will call on Him, love Him and live for Him. As we meet together we encourage one another to be the women God has called us to be.
We desire to make a difference in the lives of the women in our group, in our church, in our community and around the world through a variety of events throughout the year.
Come Join us the Third Thursday of every month at 7 p.m. for a time of growing in the word, building relationships and having fun.